Sulphur Island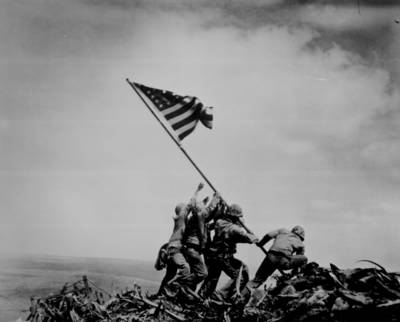 From the Halls of Montezuma to the shores of Tripoli...

At 8:59 a.m. 60 years ago today, U.S. Marines landed on the island of Iwo Jima. The island was important to our forces because the Japanese had set up the island as a full service military base. They had built underground tunnels on the island, almost perfectly camouflaged artillery and set up an airbase that could be used to send B-29s on bombing raids of Japan. Iwo Jima translates to Sulphur Island because the entire Island was essentially a dormant Volcano. The whole island was pretty much covered in sulphuric ash. I won't go into complete details for fear of insulting someone smarter. But I will put up some statistics.
Total Losses
U.S. personnel 6,821 Killed 19,217 Wounded 2,648 Combat Fatigue Total 28,686
Marine Casualties 23,573
Japanese Troops 1,083 POW and 20,000 est. Killed
Over one third of the total Marines who participated in the invasion were either Killed, Wounded or suffered from Battle Fatigue.
They may bend, but they won't break...